She is a theatre, film and television actress. Trained at the Institut del Teatre de Barcelona (Extraordinary Prize, 1994), she has more than two decades of experience on the most important stages in Catalonia and Madrid, with more than eighty plays, and with directors such as Sergi Belbel, Oriol Broggi, Xicu Masó, Miquel Gorris, among others. Her latest shows are Síndrome de Gel, at the Teatre Lliure, Hamlet, at the Cine Aribau, Eva contra Eva, at the Goya, Decadència, Las brujas de Salem...
In film and television, Els dies que vindran (Carlos Marcet Marqués), La mesías (Javier Ambrossi and Javier Calvo), Mirando al mar (Marçal Forés), Vida Perfecta (Leticia Dolera), Los herederos de la tierra (Jordi Frades), among others.
She has also co-founded the theatre training schools Sala Macaco and Platea theatre training studio, and is a teacher at the Institut del Teatre de Barcelona and ESART.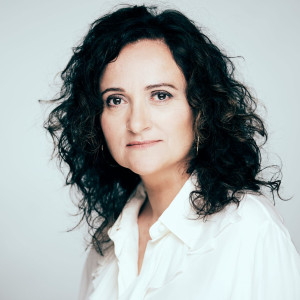 Find it on:
Subscribe to Míriam Alamany