Professor and director of the One Health Center of Excellence at the University of Florida. She has devoted her professional career to the study of viral infections of zoonotic origin that can be transmitted to humans, many of which have an impact on the critical issue of food safety. At the height of the spread of the H5N1 avian influenza virus in 2006, Capua initiated a global scientific debate on data sharing with the publication of the genetic sequence of an African variant of the virus in an open access public database. This has been a paradigm shift towards real-time sharing of genetic information on potentially pandemic viruses for the fight against emerging health threats such as influenza, Ebola, Zika and coronaviruses.
Capua currently directs the University of Florida's circular health programme, which aims to jointly advance human, animal, plant and environmental health as a single system by harnessing big data. As a keynote speaker at international events, Capua is particularly active in communicating scientific knowledge to non-expert audiences and advocating for women in STEM (science, technology, engineering and mathematics).
In 2021, Ilaria Capua received the Hipatia European Science Prize awarded by the Barcelona City Council together with the Academia Europaea - Barcelona Knowledge Hub.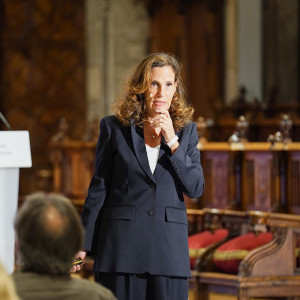 Find it on:
Subscribe to Ilaria Capua